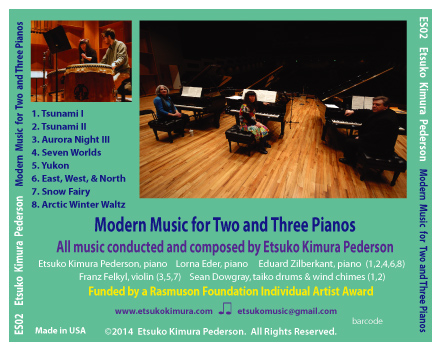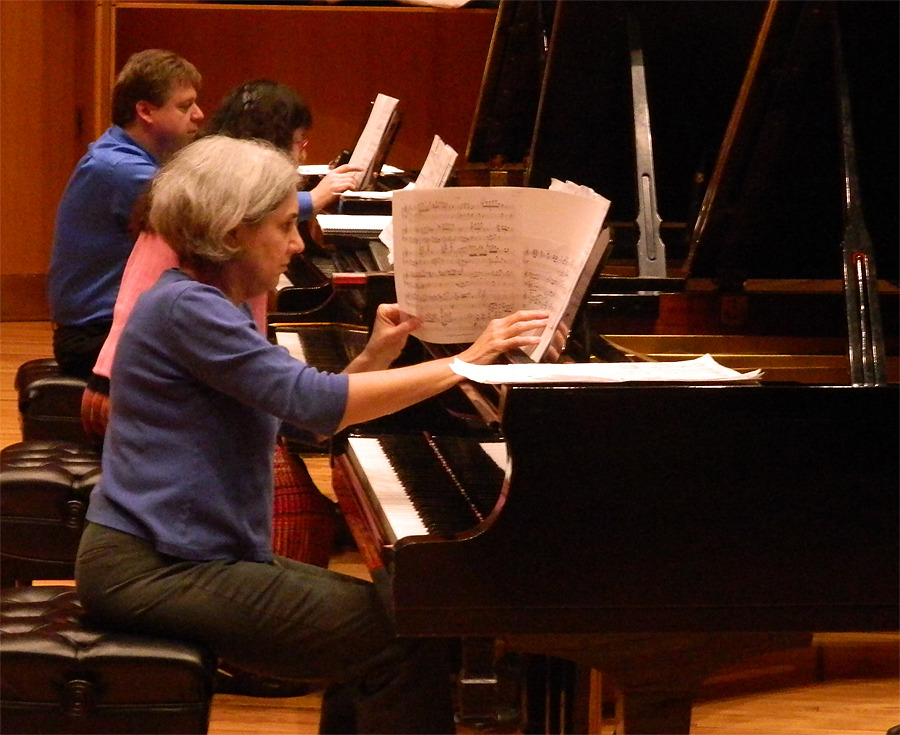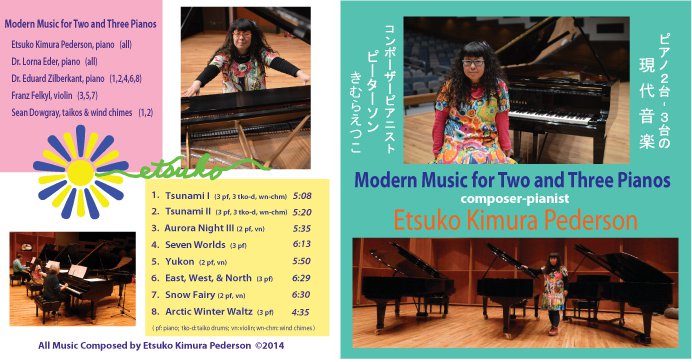 On August 3, my jazz quartet, Fairbanks Jazz performed at the Tanana Valley Fair. The weather was nice and the two different performances were well attended. In the second performance, a Australian jazz reed man from Brisbane on vacationing in Alaska this summer joined us on stage with his clarinet. Unexpected addition to the gig. In July I performed with the Fairbanks Summer Arts Festival (FSAF) Afro-Cuban Band at the Fairbanks Summer Arts Festival.

In addition to the all consuming CD project, this past year, I've been performing episodically around Fairbanks with jazz friends.
In August last year my composition Peace of Nature was released in Japan as part of the songwriters CD series "We Are All One".

In May 2013, I was awarded a second Rasmuson Foundation Individual Artist Award for music composition at a ceremony at the Alaska Performing Arts in Anchorage, Alaska. My first CD recording "Modern Music for Two Pianos" was funded in part by my first Rasmuson Foundation award.

In April 2013, I performed at the UAF Spring Jazz Fest.

On February 7th, I performed my piece Tsunami I at the 2013 UAF New Music Festival. The piece featured three pianos and three taiko drums.

I performed with the UAF Jazz Big Band last December (2012). The concert featuring the Ellington-Strayhorn arrangement of the music of Tchaikovsky's Nutcracker.

My August 2012 concert in Fairbanks at the UAF Davis Concert Hall was well attended. The concert featured my original modern compositions for two pianos, but including two pieces for three pianos. Two of my pieces were be performed with modern dance. One piece, Aurora Night II featured an aurora video presentation by my husband. Still on other pieces, I was joined by a vocalist, a violinist, a percussionist, and a trumpeter.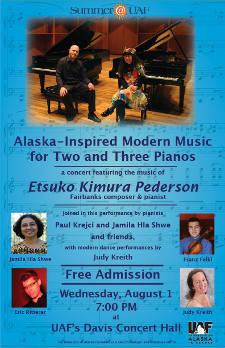 I recently finished recording a composition of mine -- Fall in Alaska. It's my latest contribution to the We Are All One CD series".

In April, I performed at the 2012 UAF Spring Jazz Festival. In May, I performed at the 2012 UAF Jazz Big Band's spring concert. As of March 19, 2012 my CD, Modern Music for Two Pianos is available through Amazon. (You can read my CD's liner notes there!) On March 3, 2012, I performed at the Notre Dame Jazz Festival as a member of the UAF jazz band. On February 3, 2012, I performed my composition -- "A Shadow of Mind" at the New Music Festival, with Paul Krejci, at the Davis Concert Hall, University of Alaska Fairbanks.